Everything works out in the end… After two days stuck in Dakar waiting to get back our filming equipment, Muriel, our head of cinematography, was finally able to leave for bedik country with Adjaratou, the linguist and Cheikh, an assistant. So, this little team was in the Kédougou region from Friday 5th March till the afternoon of Sunday 14th March. Their main concern was the heat – it got up to 40° both day and night!
Filming started well with the shooting of a festival in Bandafassi last weekend.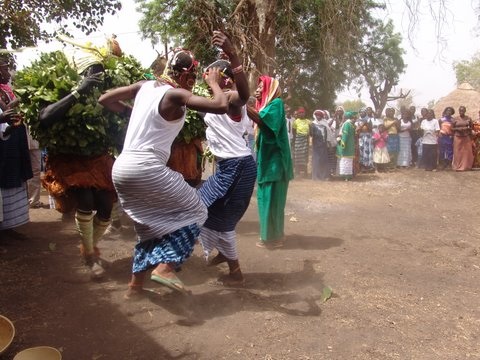 The Bedik cultural festival in Bandafassi © Cheikh Tidiane Sall
Adjaratou Sall and Léontine Keita (a bedik and manager of a camping ground) as organisers of the gathering, wanted to celebrate the bedik culture as part of the requirements of the Hans Rausing Foundation sponsored Bedik documentation project by Adjaratou Sall. So the inhabitants of the bedik village gathered together for two fantastic days of cultural celebration. The pictures should be wonderful…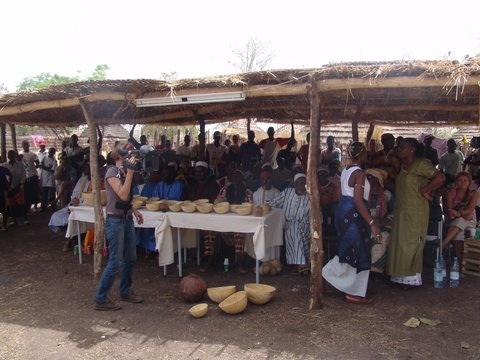 Bedik Cultural Festival in Bandafassi © Cheikh Tidiane Sall.
On the programme the last few days were various arts and crafts: weaving, basket-making and pottery with products also being sold at the Kédougou market. Plus, there was traditional house building and walks through traditional bedik villages in the mountains. The filming of the bedik culture and language will continue on Tuesday 16th March and Wednesday 17th March in Dakar, where the team will be filming a musician and a series of linguistic surveys with Adji the linguist. After that, we will be filming on the 19th March, this time in Casamance. To be continued…!